Description
In this level, students are placed in a group of 10 online. This is where they begin to take their knowledge of Arabic to the formal study of Islam. This level comprises of a study of Arabic literature (50%) and Islamic texts (50%).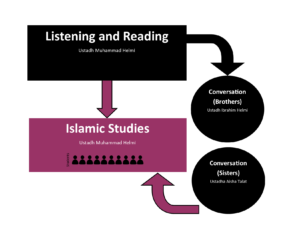 The Arabic literature portion is a study of an Arabic poem called Mulhatul I'rab and selections from other poems and prose of the ancient Arabs. The PDFs of these book are provided to each student.
The Islamic texts portion is a study of various subjects, such as hadith, tafsir, fiqh and aqeedah. The books and subjects vary with each offering of the course. The instructor leads a variety of exercises, such as discussions, explanations, drills and more.
What We Provide
Online class conducted through Zoom
Chance to ask questions live
PDF for all resources
Class notes (typed by instructor in class)
Video recording of each class
Enroll
Please click here.
Instructors