Description
In this level, we place students in small groups of 4-5 online. This is where they begin to converse in Arabic with the instructor and among themselves.
The main textbook for Level 2 is Al-Arabiyyah Baina Yadaik. The PDF of the book is provided to each student. The instructor leads a variety of exercises, such as discussions, explanations, grammar drills and more.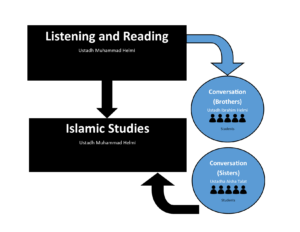 The level also features tafsir and i'raab of the last two juz of the Qur'an.
This level is paced according to the students. So if a group proceeds faster, they will finish earlier. The level is comprised of at least 60 hours of instruction.
What We Provide
Online class conducted through Skype
PDF for all resources
Class notes (typed by instructor in class)
Video recording of each class
Enroll
To enroll in conversation classes, please email admin@qutoofacademy.com.
Instructors