Description
In this preparatory level, we focus on training the students' ears to process Arabic.
The textbook for the level is "Qasasun Nabiyyeen" (stories of the Prophets). The instructor starts the level explaining the book in English and gradually transitions to speaking only Arabic. The students are required to translate the text and answer questions.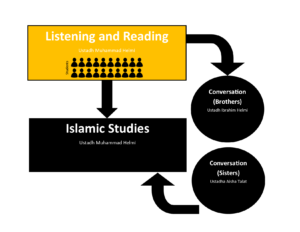 The level also features tafsir and i'raab of the same stories of the Prophets from the Qur'an. This serves as a beautiful reminder, a booster of iman and reinforces vocabulary.
At the end of the level, students are comfortably able to comprehend Arabic read aloud of books and translating the Qur'an.
The students are placed in a class of around 15-20 students online. They are not expected to speak, only type answers.
The level is comprised of 36 hours of instruction.
What We Provide
Online class conducted through Skype
PDF for all resources
Class notes (typed by instructor in class)
Video recording of each class
Sample Class (Beginning)
Sample Class (Near the End)
Enroll
Please click here.
Instructor